Importance of Declared Values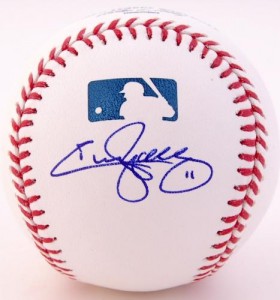 Please keep in mind that the declared value section is crucial in filling out the submission forms properly. The values you declare for each signature affects shipping fees. Each signature submitted must have an individual value on the submission form. Please declare a value for each signature submitted to GFA for authentication. Failure to comply with the stated rules can delay your order. GFA appreciates your attention to this matter.
Signatures Required On All Submission Forms. Failure to sign your submission may cause significant delays in processing your order.
Packages
When mailing packages to GFA, please be sure to tape the entire package and package with filler to prevent damages during shipping. By taping the package and providing filler well, you'll reduce the chances of damages during shipping and prevent slipping through openings in the box.
Types of Submissions
You may submit signatures through authentication services Level I, Level II and Level III, regrading.
Crossover: Use the "Crossover" service for signatures previously authenticated by another authentication service. Submit the signatures with the other services authentication when submitting a crossover. We will examine the signatures and authenticate them only if the signature meets the GFA standards of Forensic authentication. If GFA determines the signature is authentic we will dual certify your signature with the Level of service you requested. If through the GFA forensic examination we determine your signature is not authentic, GFA will return your item to you with a detailed description of our forensic examination.
Postage Rates
Priority Mail

Express Mail

Registered Mail

Number Items

$1 – $1000

$1001 – $5000

$5001 – $15000

$15001 – $50000

$50001 – $100000

$100000 – $150000

1 – 4

$16.95

$24.95

$29.95

$49.95

$89.95

$129.95

5 – 25

$21.95

$29.95

$34.95

$56.95

$99.95

$149.95

26 +

add 25¢/signature

add 25¢/signature

add 25¢/signature

add 50¢/signature

add 50¢/signature

add 50¢/signature
International Postage & Insurance Rates
Canada

Europe

Pacific Rim (Mexico Included)

Up to 10 items

$44.30

Up to 10 items

$50.25

Up to 10 items

$52.45

11 to 20 items

$47.95

11 to 20 items

$55.00

11 to 20 items

$57.30

21 to 30 items

$51.60

21 to 30 items

$59.75

21 to 30 items

$62.15

31 to 40 items

$59.10

31 to 40 items

$68.85

31 to 40 items

$73.45

41 to 60 items

$70.35

41 to 60 items

$82.50

41 to 60 items

$90.40

Over 60 – $1.15 per item

Over 60 – $1.30 per item

Over 60 – $1.40 per item