The Importance of Autograph Authentication
As autograph collecting started gaining a lot of momentum in the early 1970s, the authenticity of a signature, along with its demand and rarity, determined the value. Over the years, authentication has gone from having an autograph signed in front of you when you went to the ballpark to public autograph signings to companies hiring athletes to sign autographs. The problem has always been if you didn't get it yourself, "How do you know that it's real."
When the autograph was limited to a small number of companies and athletes  you could rely on the reputation of the company and the contracts the athletes had with these companies,  Starting in the late 70's with My Favorite Players Athletes were actually getting a small fee to sign their name on pictures and baseballs. This new phenomena of getting paid was unique to very few athletes and very few companies. Then in the early 80's Kenny Goldin started collecting baseball cards and was a weekend warrior of sport-card shows. Kenny Goldin's father Paul realized there was a lot of money to be made in the buying, selling and trading of sports cards and sports memorabilia. In 1986 Paul Goldin founded Scoreboard. During that first year in business the Goldin's worked on acquiring significant inventory to start their new venture. In 1987 Scoreboard converted their company to public ownership and developed into an industry powerhouse without rival.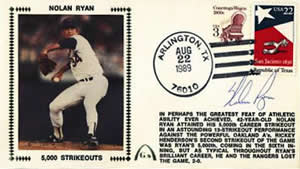 In 1989 Score Board started selling autographs on Television's Home Shopping Network. Scoreboard was now selling more than 20 million dollars a year in sports memorabilia and half of that volume was from HSN. The Goldin's now were insatiable to find high profile athletes to sign merchandise for them in return for payment. The modern autograph industry was now born. There were four major companies all with diverse history whom were now competing for athletes to sign Autographs. Scoreboard, Upper Deck, B&J Collectibles and Tri-Star were the big four and they all were competing for the same athletes.
As the market grew, authentication became an issue.  More and more collectors were getting into the market place and the autographs they bought from the big four were now being sold in the secondary market place. Questions of authenticity were now being raised. Scoreboard started issuing Certificates of Authenticity (COA) for each item being sold and soon the other's followed. The new COA's helped but there were still many questions that needed to be answered.  How do we know that the COA issued went to the item being sold?  How do we know the COA wasn't Counterfeited, How do we know that the companies themselves weren't counterfeiting autographs for more profit?
Although autograph collectors agreed on the importance of the COA, they could not agree on a set standard or procedure for authentication.  This created a demand for a third party authentication company.
The Need for a Third Party Authenticator
In 1991, Stephen Rocchi realized for the sports industry to recognize its potential, the question of authenticity had to be answered.
Market participants soon demanded proof that their cards and memorabilia were genuine. They learned that a genuine autograph would command more of a premium, if there were a way to be sure that the item they were buying was real. Over the course of many months of meetings, the blueprints of third party sports authentication was born.
The advent of the third-party authentication of sports card's and autographs was formed and the hiring of top collectors and dealers to become authenticators of this new company was realized. The new standard was set and now the company looked to the collectors and dealers in the hobby to promote this new standard.
The New Standard 
The Professional Sports Authenticators (PSA) opened its doors in June of 1991.
PSA was responsible for dramatic improvements throughout the sports memorabilia industry which has forever changed the way autographs are bought and sold. In addition to having top collector's and dealer's as authenticators, PSA issued tamper evident labels on sports memorabilia with a corresponding certification number that could be verified in its data base.  For the first time collectors could check on the authenticity of their sports collectible using an independent third party as their authenticator. From 1996 to the present this is how authentications of sports memorabilia have been done.
---
"Since 1991 Stephen Rocchi former PSA President, and founder, a former President, CEO and Founder of Global Authentication and was responsible for hiring JSA authenticator Jimmy Spence also a former PSA authenticator. Stephen Rocchi has been instrumental in bringing the three largest authentication companies into the sports world."
---
New Technology and Sophistication
As of September of 2011, the sports memorabilia authentication companies have used collectors and dealers as their authenticators. These authenticators highly respected in the industry have for their collecting and selling expertise have had little or no formal training in forensics and document examination. Stephen's background in law enforcement along with his years of experience in authentication, working with well trained forensic and document examiners, combined with today's latest technology can produce consistent scientific proof that signatures are authentic or counterfeit.